" The physical approach only is one aspect of getting into and staying in shape. One's mental state and influence plays a huge part … Your Body Will Achieve What Your Mind Believes "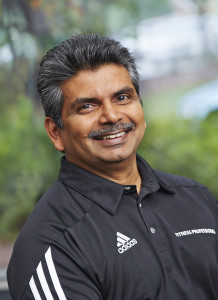 I am not your average, run of the mill Personal Trainer. One may say that I am a Personal Trainer with a difference.
I bring to the table (or should I say gym floor) a Holistic approach to fitness, incorporating not only my vast knowledge and experience in fitness but also my mentoring & coaching skills tapping also from life experience and my skill-set in Life Coaching and Mental Therapy.
I specialize in the following areas;
Muscle Gain

Weight Loss, Toning, Conditioning

Beginners fitness or back to fitness

Increased Stability, Mobility, Flexibility and Functional Fitness (esp for aged clients)

Injury Rehab
My clients range from teenagers to the older population (50 to 70 plus age bracket). I have also worked with those seeking fitness during pregnancy and those with injuries and limitations ranging from, back issues, knee issues, arthritis and other specific medical conditions.
" One of the things that sets me apart from other Personal Trainers is my ability to cater to the specificity and functionality aspects of my clients' needs, thinking out of the box, being adaptive in my approach "
The average Personal Trainer is known for putting one through their paces and maybe a little more. I am different and I dare say it, and there are only a few who train people the way I do. Amongst others, you may expect me to ;
Provide you at the onset, with a personal assessment of your fitness status and fitness goals

Motivate you, hold your hand, take you through the plateaus, push you to the extent to reach your goals

Coach and mentor you not only from the physical but also the mental aspects (tapping into my Life Coaching, NLP & Hypnotherapy skills)

Develop a customized training program for you, which caters to your goals, your level of fitness, any injuries or limitations you may have

Take you through the science behind the programs, the exercises, the techniques – so that you learn and understand what you do & why you do it

Guide you on the Body-Mind Connection

Show you the relevant warm up, cool down and stretching routines specifically ideal for you

Empower you to the extent that you are eventually equipped to become your own Personal Trainer

Channel you onto the right track towards your nutrition and eating habits
I have been training people in fitness since my teenage years. Having picked the interest from a young age through my father, John Ratnam, (who was a Bodybuilder, a trainer of bodybuilders and a bodybuilding competition judge) I developed a deep and long passion in fitness as well as a high level of hands-on knowledge in this field. I also had to learn things the hard way, made mistakes, done loads of research and that's helped me develop further my knowledge and skill at a very practical level.
The composition of fitness training that I offer can include, incorporating both Indoor or Outdoor Training;
Resistance Weight Training & Instruction,

Strength &  Conditioning Training

Bodyweight Training

Low to High Intensity Functional Exercises

Interval, Circuit and Cardio Training
My Fitness qualifications & certifications include the following, however to note that nothing beats experience ;
Cert III & IV in Fitness
Mechanics of Lifting
Kettlebells Training
Thump Boxing Instruction
Suspension Training
My sessions are usually conducted at my well equipped Personal Fitness Studio in Queens Park and there is no additional charge for use of equipment. You merely pay for the cost of Personal Training.
Personal / Fitness Training Rates (One on One)
Consultation and Assessment

No additional charge (included in cost of 1st Session)

 45 Min Session
 60 Min Session
To book in an appointment or enquire more, please do give me a call on 0421 6858 66 or email me at info@inneralignment.com.au .