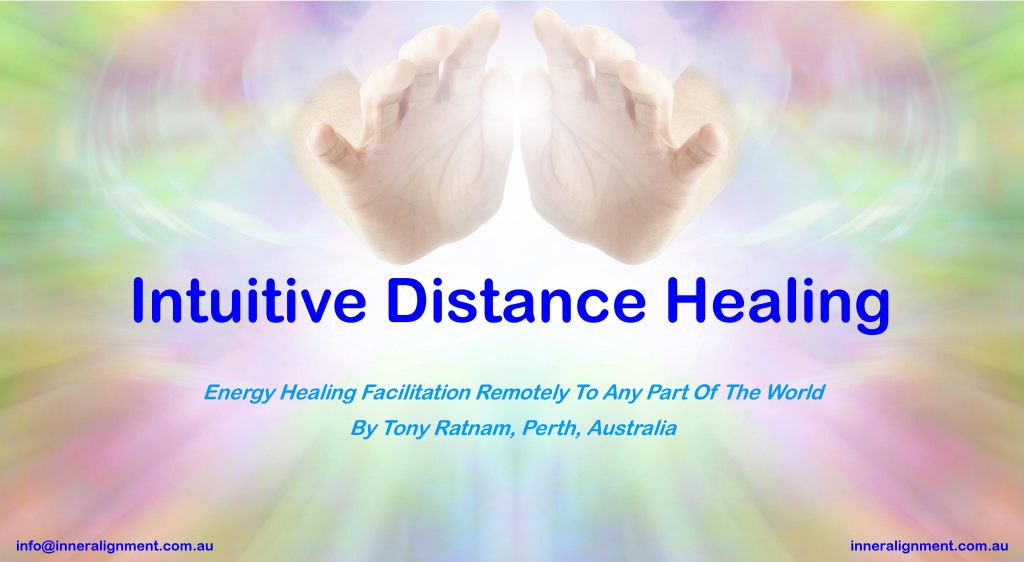 Receive Energy Healing by distance (remotely) in any part of the world. Energy travels via intention of the Practitioner and further enhanced by the participant's intention to receive such healing.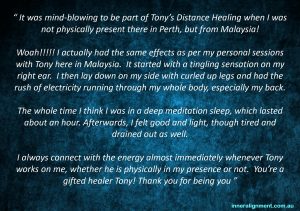 How It Works
Healing energy, directed remotely to anyone in any part of the world. One can choose to participate in the healing by tuning into the session at the appointed time. This can be done by sitting in quiet or stillness, perhaps in a meditative state (but not necessary) and setting the intention in one's mind to tune into the energies dispatched. Alternatively one can go about their day and the healing session will still take place. Some people though may feel a bit "spacey" or "ungrounded" in such cases. Each person reacts differently in such instances.
How To Purchase
Scroll down to bottom of the page
Select option, "single session" or "package"
"Name for intended healing" : Enter the full name of the person for whom healing is sought, their

location

and your email address for contact
"Specific requirements" : List down any specific requirements for the healing.

Please note there is a limit of 200 characters for this box. Alternatively you may send an email to info@inneralignment.com.au for lengthier messages

Select "Add To Cart" and complete your purchase
If you'd prefer alternate payment options, kindly send an email to info@inneralignment.com.au
Hereafter you will be contacted via email to determine date and time of the healing and if any other information is required.
Following the session, I will forward you with a brief report on what I've picked up and will also follow up post session on your progress.
About The Energy Work
I tap into Source Energy and work with multitudes of Light Beings / Guides and I have the ability & the gift to draw in and channel through a wide range of energy frequencies.
Working from a place of guided knowing, I will set for you the space of energy, for you to receive and shift what you need at this point and I rely on the purity and intelligence of the energies that I channel through to direct what's necessary. Potentially experience in these sessions;
Shifts and releases with regards emotional issues, blockages, life issues and / or changes in thinking patterns and cognitive behaviour

deeper connections with the Divine & Higher Self, raising of vibrational levels

activations to connect one further to their life purpose

shifts in physical ailments, issues or pain

Removing negative energies, discordant connections, congestion in one's etheric fields
optimization of one's energy and energy centers (c

harkas)
The Energy delivers and engages at any or all of the levels of the Physical, Emotional, Mental,  Spiritual and Galactic Bodies.
The participants will typically receive what they need to get & also dependent on where they are at with regards their energy vibrational levels, how receptive their body is to energy work and their spiritual journey.
Clients / participants who have received the energy work have reported a variety of shifts, spiritually, mentally and emotionally. Their experiences in that have ranged from an awesome "big wow" effect, seeing flashes of light or colors, feeling heat/cold, tingly energetic sensations, drifting out of consciousness, an out of body experience, feeling just nice, feeling a sense of release & peace, stillness within, visions & messages, visitations from persons since passed, conversations with light beings …. or down to very subtle sensations of energy.
However, one's experience is not always a representation of what one has received. One's sensory experience can potentially be impacted by perceptions of the mind, while the energy will still flow and do what it needs to do regardless.
Things To Note
Any potential issues are quite often structured in energetical layers within one's energy field and while one layer has been addressed, further layers may need to be addressed in subsequent sessions. It may also take time and multiple sessions to get one's energy field and frequency vibrations a higher sustainable level and to a new staging area in life. It is worth considering however, that while this is achieved, sluggish energy fields can revert if one keeps repeating patterns that caused past issues to be present in the initial instance.
For the best results, it is recommended to start off with 3 sessions (see below).
The nature of the healing energy is such that it can be quite a powerful effect for some while being gentle on others. One can also expect to experience sensations, cleansing / clearing post session. In certain cases existing issues can get worse post session before improvement is seen.
Purchase a Distance Healing Session (Australian Dollars)